1.Name: Beanaturalist
Introduce: Beanaturalist has 15 years of experience, whether it is logo or pattern, can provide customization of various processes, customers only need to provide ideas, Beanaturalist can turn ideas into products, and provide one-stop service for customers, Beanaturalist's purpose is to make customers satisfied, And can reach many cooperation.
City & Country: Guangdong China
Established date: In 2008
Key Products: Hoodie, jacket, t-shirt
Product Image:
Review: Beanaturalist can fast delivery time 3-5 days for simple samples, 7-8 days for logo, 2-3 weeks for large goods. With IS09001 certification and BSCI certificate, we arrange every process of production strictly in accordance with the standards, and make products to satisfy customers.
2.Name: Steve Apparel
Introduce: Steve Apparel has its own manufacturing facility located in Karachi, Pakistan, while the company is registered in the United States, Ohio, providing customers with a guaranteed option to produce products that also deliver product and service results that exceed quality requirements. steve Apparel's goal is to make the apparel manufacturing process simple, accessible, and provide a refined and smooth process with A trouble-free experience. Offering a variety of services for startups and established brands to expand their business and take it to the next level.
City & Country: Ohio US
Established date: In 2015
Key Products: Hoodies and shirts
Product Image:
Review: With a variety of styles, a variety of styles of clothing, the quality of the product is excellent, is a trustworthy clothing factory, the shortcoming is that the price will be relatively high, the initial cost of low clothing brands need to be carefully considered.
3.Name: Arlis.Man
Introduce: RLISMAN is a typical garment processing factory, offering customization, garment processing and graphic services. Environmental protection, tradition, design, innovation and passion. After years of development, the factory has formed a rigorous production system and a strict quality control system. In international brand processing, ARLISMAN has also concentrated on forming design department and sales department, and created two independent high-end brands.ARLISMAN has complete production lines and rich experience in production process, which can effectively save material cost and control quality well.
City & Country: Guangdong China
Established date: In 1999
Key Products: Hoodies, shirt and pants
Product Image:
Review: Arlis.Man clothing, experienced in providing customers with a variety of styles of clothing, can well meet the needs of customers, follow the modern fashion trends, the use of high-quality fabrics, its price will be relatively high, the product and quality is worth the investment.
4.Name: Affix apparel
Introduce: Affix Apparel is an emerging apparel company that offers versatile private label services to different brands in the U.S. Starting from as little as 50 pieces, Affix Apparel is able to handle a variety of high volume needs in addition to meeting small orders, strict quality control and customer-friendly delivery schedules, and a team of skilled designers to ensure that the products are designed to meet the customer's requirements.
City & Country: California, US
Established date: In 2013
Key Products: T-shirt, hoodies, beanies, tanktops, towel and robes,bags
Product Image:
Review: Affix apparel companies are able to order small quantities for their customers, meaning that the unit price will be higher. Startups may consider Affix Apparel's products and quality to be a worthwhile investment.
5.Name: Apliiq
Introduce: With decades of experience in the industry, Apliiq has built and curated a great collection of hoodies that can be customized to fit your brand's preferences. With advanced equipment and an established team, we are able to ensure that we produce a product that will satisfy our customers. We can provide you with a variety of options, such as label printing methods, fabric choices and various colors, all at a reduced cost to you.
City & Country: Philadelphia USA
Established date: In 2008
Key Products: Hoodies
Product Image:
Review: All of Apliiq's products are made in the U.S., which is convenient for U.S. apparel brands, but its lead time is long and the products need to be planned in advance, which is not suitable for urgent apparel brands.
6.Name: HOODIE MANUFACTURER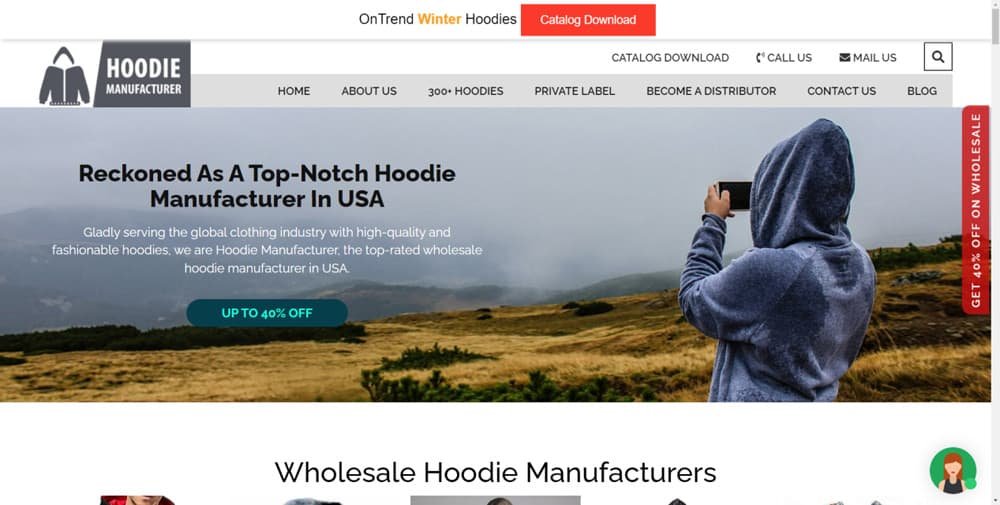 Introduce: An apparel factory specializing in hoodies with offices in Australia and Canada and an extensive global presence through a strong online network. As one of the leading wholesale pullover manufacturers, Hoodies manufacturer is able to offer tailor made custom design solutions for bulk hoodies for retailers and business owners. The personalized customization is able to be done in bulk and produced by a proven professional and perfect team.
City & Country: California, USA
Established date: In 2004
Key Products: Hoodies
Product Image:
Review: With a mature professional team, strict control of the quality of each product, such a process is bound to be the price will be higher, the cost is not high clothing brands need to make a careful choice.
7.Name: ZEGAAPPAREL
Introduce: Zega Apparel has many years of experience in providing firm assistance to apparel brands and start-ups, offering a minimum order of 50 pieces of each color and design. Zega Apparel offers a variety of printing options to meet a wide range of design needs.
City & Country: PAKISTAN
Established date: In 2012
Key Products: Hoodie, jacket, shirt
Product Image:
Review: Able to provide a variety of process designs, the demand for multiple processes can cause confusion, you need to make clear requirements with zega clothing before making samples to avoid unnecessary mistakes.
8.Name: Seam apparel
Introduce: Seam Apparel, one of the best hoodie manufacturers in the United States, offers a wide range of custom products. Also able to offer custom embroidered sweatshirts, Seam provides apparel brands with a canvas that can be used to build their unique identity. If a brand needs custom sweatshirt embroidery, then you can choose Seam, which has extensive experience in manufacturing hoodies and offers a huge range of customizability options to meet the standards of its customers.
City & Country: California USA
Established date: In 2013
Key Products: Hoodies, dresses,t-shirt
Product Image:
Review: The cost of embroidered sweatshirts is relatively high, and not everyone can accept this relatively high price. Once the embroidery is wrong, it needs to be re-made, and there will be defects on the original fabric, so you need to carefully choose a factory with good craftsmanship and low error rate to reduce costs.
9. Name: Sportswear manufacturer
Introduce: Goodworth sports is a premier sportswear manufacturer supplying sportswear around the world and is also able to offer sweatshirts with state of the art equipment. goodworth sports specializes in bulk zipper sweatshirts tailored for the comfort of their customers and also has a team of dedicated designers who always work with their customers to customize the product specifications to their liking. Whether it is for everyday casual wear or as sportswear, it is their aim to provide the best satisfaction to their customers.
City & Country: Sialkot Pakistan
Established date: In 1995
Key Products: Sport uniform, hoodies, jacket
Product Image:
Review: Goodworth sports is good at making sportswear, the size or fabric may not be suitable for sweatshirts, you need to carefully check the size and the specific purpose of the sweatshirt before making the clothes to make sure the properties of the sweatshirt match.
10. Name: YCApparels
Introduce: YC apparel is a garment manufacturing from China has its own large garment factory, senior designer team, professional overseas sales team no matter where you come from, no matter who you are, YC apparel basic models are suitable for you, of course, we can also provide different processes according to customer's design requirements, and also hope to be a reliable partner to solve customer's problems and provide you with better and more perfect service.
City & Country: Fuzhou China
Established date: In 2010
Key Products: Hoodie, Jacket, T-shirt, Tracksuits, Sweatshirt
Product Image:
Review: The starting order quantity is 300 pieces, which is relatively high compared to other garment factories, and difficult to reach for a start-up garment brand.
Conclusion:
Beanaturalist is sure to satisfy you in both products and services. Beanaturalist is looking forward to cooperating with you, growing together and further expanding your business.